SOFTWARE
| WEB & MOBILE
WEB TOOLS
For our customers' websites we have developed a set of tools intended to enhance the system interaction.
Registered members logging on the karting venue's home-page will be able to:
- submit membership pre-registration through a virtual Kiosk (Kiosk on-line);
- browse best results/ rankings statistics – either overall or of specific pilot
categories, on daily / weekly / monthly / yearly basis;
- have a look at their local profile and review their own history;
- share on Facebook or Twitter their outstanding personal performances.
How can I promote my advertising campaign in a quick, simple and effective way?

On our internet portal you'll find at your disposal a full set of customizable templates designed to easily manage newsletters drafting and forwarding. Once loaded the list of recipients your newsletters can be delivered through our portal so as not to slow down or overload your server.
INTERNET PORTAL
This portal is a  restricted access area, available 24/7 to  venue's managers, intended to support them in their business even when they are off-site. This service features the possibility to:
follow reservations status
view updated sales statistics
draft and forward newsletters to  registered users
manage the routing of push notifications to all smartphones downloading our app.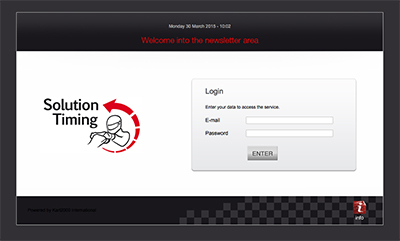 SMARTAPP

With our customizable APP for IOS and Android you have at your disposal an additional tool designed to take advantage of the new opportunities offered by social media: registered members have now the possibility to follow live competitions on mobile devices (Live Race), and they can share on Facebook their passion for karting and the speed with as many friends as possible.

Timings and rankings will be posted directly on their Facebook wall, making it easier to:
compare one's results with those of friends
engage in open challenges either with b followers and opponents, or just
call  friends upon for an exciting hell of a day out.