SOFTWARE
| FRONT OFFICE
PAYDESK is a software programme suite designed to provide all that is essential to oversee real time cash flow of. Each Point of Sale (POS) is totally stand-alone and all tasks are automated and integrated with specific peripherals so that any ticket-counter operator can easily manage membership subscribers access to the venue by swiping VIP cards or QRcodes, check the availability of vehicles, issue tickets and/or reservations and customize events according to the customers' demands.

Besides managing kart rental tickets, accessories and subscriptions sale, PAYDESK can simultaneously function as restaurant/coffee bar cash register and ticket counter for any other entertainment activity available on your premises (lasergame, simulators, amusement arcades, etc.).
Is there a limit as to the number of POS or kiosks?
No. Our system can simultaneously manage as many workstations as required by the specific needs of the venue, provided that they are supported by an appropriate server.
Moreover
PAYDESK
's extensive master database supports an ample range of procedures intended to streamline a wider range of front office operations:
VIP/membership card printout
membership registration
scheduling of either single or group reservations by means of the interfaced module "Reservation"
organization of business events/contests by means of the interfaced module "Event Organizer"
subscription accounting along with vouchers or pre-paid cards and advance payments management
fidelity points awarding and complimentary vouchers
customized statistics and results printout
reporting tools to monitor sales trend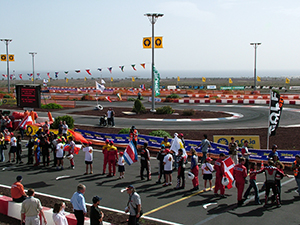 In addition to plain rental karting I would like to manage and organize more complex events with a large number of participants with tournament heats, or multi round team/corporate events. Is your system designed to handle them?
Yes. This sort of events can be organized in the utmost detail and with a minimum waste of time and resources by a single POS operator thanks to Event Organizer, a dedicated scheduling modules.
KIOSK
This quick access booth equipped with touch screen and a dedicated software module will enable all new customers to enter in advance their own personal data and any relevant info to membership registration. Your staff will just have to check the previously submitted data and hand in to the new customer his membership card.


KIOSK ON-LINE
Our KioskOnLine is a new tool to further streamline your customers access management since you can offer them the opportunity to register by simply downloading our application and then log-in their data through Facebook. In addition to this we can provide a specifically designed plug-in that, similarly to our Facebook app, allows users to conveniently register online once connected with your website, thus promoting an ever more quick and user-friendly interaction with your customers.


ARRIVE&DRIVE
To registered customers, being in possession of valid pre-paid cards or subscriptions you can grant a further benefit and let them have direct access to the briefing room by simply scanning their membership card or QRCode. Arrive&Drive will assign them the first available vehicle by taking into account the customer's profile (type of subscription, driving and vehicle class, etc.).