SOFTWARE
| DATA REPORTING
ON SITE REPORTS
PRINTOUT
With our software you can get either automatically or on-demand, customized printout of each race results. The report will be simultaneously posted on your customers e-mail boxes but score sheets can be accessed also by logging on your facility's
website from PCs or mobile phones.
DISPLAYS
To enable both onlooker and pilots to follow the race progress, a number of devices such as
LCD screens, scoreboards and monitors
are usually provided along the track and in adjacent areas, according to the features and characteristics of the venue. Displays will allow you to easily support a lineup of different feed, whatever their format, in order to constantly provide updated information about in-progress or upcoming races, and each device can be programmed according to the specific function that it will be allocated to.
Besides showing in real time any relevant data related to ongoing events (starting grid, statistics and timings) you can programme each one of these displays to draw attention to oncoming events, promotional campaigns and sponsors' commercials.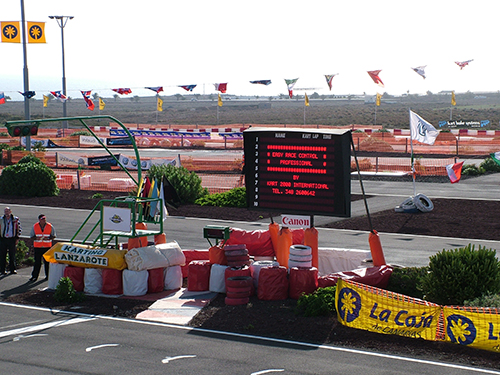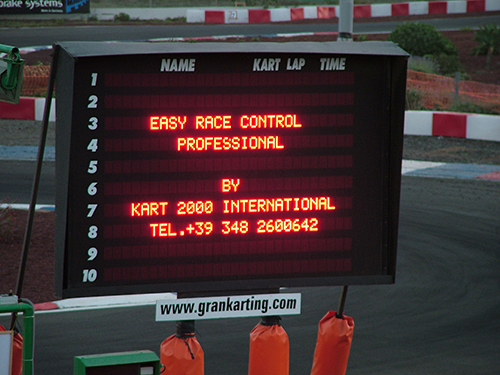 ON-LINE REPORTS
MOBILE APP &  LIVE RACE
In order to keep your customers constantly engaged with your business you can now exploit the resources of mobile technologies. Designed for
IOS
and
Android
, our app is published on each corresponding internet store in customized version, with customized contents and logos.
Beyond its usefulness as a
marketing
tool, this app has been primarily designed as a platform for all those who want to share on
Facebook
their passion for karting and speed and want to take part to ever more exciting driving challenges with their friends.
Once installed on a mobile device our app will keep the user constantly informed on his driving performances and he will be able to compare his friends' race results through timing reports and ranking updates, while thanks to
Live Race
function it will be possible to follow each single race on the smartphone in real time.
WEBSITE TOOLS
Among the additional features included in our products there are some new dedicated tools designed to make available to your registered customers all the data related to their driving performances by simply logging on your karting venue website, i.e.:
- browse through one's timing history record;
- compare with best ranking reports (overall and/or per category on daily /
weekly / monthly / yearly basis);
- select a performance result and share it on Facebook or Twitter.
Can I notify my clients with the results of their driving performances via e-mail, through the web or a social network?


Yes. Our system automatically supports emailed timing reports to any registered customer as well as posting to their Facebook Wall and registered members can take a look at the records of their racing performances by logging on your website.